Samsung S6 Active Frp Bypass
This tutorial teaches you how to manually bypass the FRP of your Samsung phone. The tutorial might work with other Android phone models, too.
Bypass Google Verification on SAMSUNG G928A Galaxy S6 Edge+ (AT&T). Unlock FRP should be active after. How to bypass Google Account protection in SAMSUNG G928A Galaxy S6 Edge+ (AT&T) with Android 8.x with security patch 03.2020?(JULY 2020). Bypass FRP Lock is not an easy task especially for Samsung devices. But with this tool, you can easily bypass your Samsung smartphones. FRP Hijacker tool allows you to bypass the frp lock on multiple methods including Samsung Download mode, ADB mode and Flashing mode, Millions of users across the world are using this tool right now.
If you've bought your phone from a 3rd party and they forgot to remove their FRP from the phone before selling the phone, then it means that you are locked out of the device and you cannot use it. If you can't contact the other person and ask them to tell you the Google account credentials, then you won't be able to use the device.
Before trying to apply the steps below you should first attempt to factory reset the device from the Recovery Mode of your device. Note that the guides below should work for Android 8.0 and earlier versions.
NOTE: the tutorial will take a while to complete, so make sure that you have enough battery left before it powers off.
If you want to learn how to manually bypass the FRP of your Samsung device you should check the info below:
Samsung Galaxy S6 Active Frp Bypass
Turn on your device.
When the Welcome screen loads you can click the Start button.
Connect the phone to your home Wi-Fi.
After the device gets connected to your Wi-Fi you should press three times on the Home button of your device.
TalkBack tutorial will be loaded.
Make an L gesture on the left side of the screen and the Global Context Menu will load.
Tap 'talkback settings'.
Press three times Home button to disable Talkback.
Scroll down through the Talkback Settings and find 'help & feedback' option. Tap it once.
Now tap once on the 'get started with Voice Access'.
A new page with an youtube video will be shown.
Tap the Play button on the video. The video will refresh and you will then see two icons on the right-hand side of the video screen.
Tab the 'forward'/'share' icon.
Now press on the 'three dots' option and YouTube will load.
Minimize the video by dragging it from top to bottom.
Next, click on the Account icon on the right hand side of your screen.
Now tap on 'Terms & privacy policy'. The Web Browser will now be loaded.
In the address bar enter 'https://androidhost.org/ikCnicg' url and then download the Apex Launcher apk.
Save the file on your phone.
After that go to 'https://androidhost.org/a2Bes' and download the Easy FRP Bypass apk.
Save that file on your phone, too.
Now go to the Download History menu of your phone's web browser.
Tap on the Apex Launcher apk file.
Confirm that you want to allow apps to be installed from unknown sources.
After Apex Launcher is installed you can go to Settings>Apps and tap the 'three dots'.
Tap 'show system apps'.
Find the Google Account Manager and disable it.
Next, find Google Play Services and disable that, too.
Now go to Downloads in your device and launch the Easy FRP Bypass apk.
After the Easy FRP Bypass is installed you can go to the Accounts menu in Settings and setup the Google account for your device.
Make sure to re-enable the Google Account Manager and Google Play Services from the Settings>Apps section.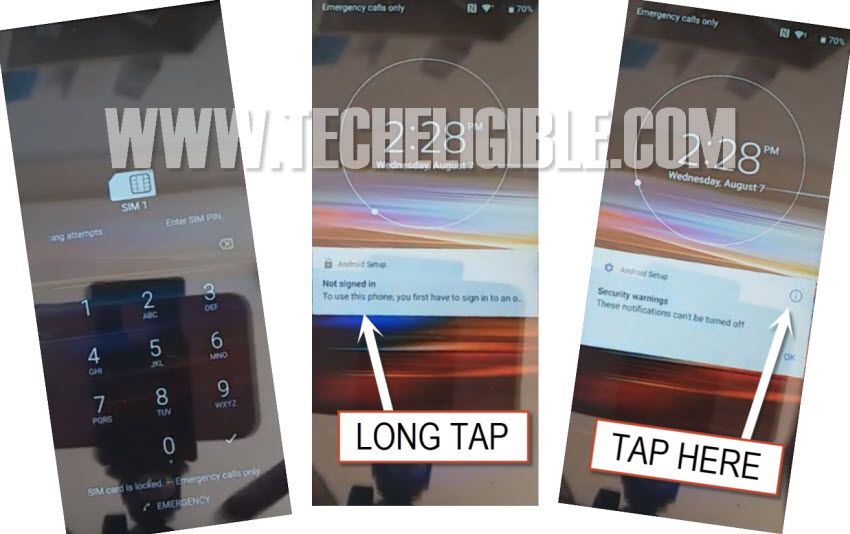 The guides posted above should work for most of the Android devices presented below:
Samsung S6 Active Frp Bypass
HTC 10
HTC 10 evo
HTC 10 Lifestyle
HTC Desire 10 Compact
HTC Desire 10 Lifestyle
HTC Desire 10 Pro
HTC Desire 12
HTC Desire 12+
HTC Desire 12s
HTC Desire 19+
HTC Desire 530
HTC Desire 630
HTC Desire 650
HTC Desire 728 Ultra
HTC Desire 825
HTC Desire 830
HTC Exodus 1
HTC One A9
HTC One A9s
HTC One S9
HTC One X10
HTC One X9
HTC U Play
HTC U Ultra
HTC U11
HTC U11 Eyes
HTC U11 Life
HTC U11+
HTC U12 life
HTC U12+
HTC U19e
HTC Wildfire X
Huawei Enjoy 10 PLus
Huawei Mate 10 Lite
Huawei Mate 10 Pro
Huawei Mate 20
Huawei Mate 20 Lite
Huawei Mate 20 Pro
Huawei Mate 20 X
Huawei Mate 30
Huawei Mate 30 Pro
Huawei Mate 30 Pro 5G
Huawei Nova 3i
Huawei Nova 4
Huawei Nova 5
Huawei Nova 5 Pro
Huawei Nova 5i
Huawei Nova 5i Pro
Huawei Nova 5T
Huawei P Smart 2019
Huawei P Smart Z
Huawei P20
Huawei P20 Lite
Huawei P20 Lite (2019)
Huawei P20 Pro
Huawei P30
Huawei P30 Lite
Huawei P30 Pro
Huawei P8lite
Huawei P9
Huawei P9 Lite
Huawei Y5 (2019)
Huawei Y5 Lite (2018)
Huawei Y6 (2019)
Huawei Y6 Pro (2019)
Huawei Y7 (2019)
Huawei Y7 Prime (2019)
Huawei Y7 Pro (2019)
Huawei Y9 (2019)
Huawei Y9 Prime (2019)
LG Aristo 2
LG Candy
LG G Pad III 10.1 FHD
LG G Pad IV 8.0 FHD
LG G5
LG G6
LG G7 Fit
LG G7 One
LG G7 ThinQ
LG G8 ThinQ
LG G8S ThinQ
LG G8X ThinQ
LG Harmony
LG K10 (2017)
LG K10 (2018)
LG K11 Plus
LG K20 (2019)
LG K20 plus
LG K3 (2017)
LG K30
LG K30 (2019)
LG K4 (2017)
LG K40
LG K40S
LG K50
LG K50S
LG K7 (2017)
LG K8 (2017)
LG K8 (2018)
LG Q Stylo 4
LG Q Stylus
LG Q6
LG Q60
LG Q7
LG Q70
LG Q8 (2017)
LG Q8 (2018)
LG Q9
LG Stylo 3 Plus
LG Stylo 5
LG Stylus 3
LG Tribute Empire
LG U
LG V10
LG V20
LG V30
LG V30S ThinQ
LG V35 ThinQ
LG V40 ThinQ
LG V50 ThinQ 5G
LG V50S ThinQ 5G
LG W10
LG W30
LG W30 Pro
LG X power2
LG X Skin
LG X venture
LG X4+
LG Zone 4
Motorola Moto C
Motorola Moto E4
Motorola Moto E5
Motorola Moto E6
Motorola Moto E6 Plus
Motorola Moto G5
Motorola Moto G5 Plus
Motorola Moto G6
Motorola Moto G7
Motorola Moto G7 Plus
Motorola Moto G7 Power
Motorola Moto M
Motorola Moto X4
Motorola Moto X5
Motorola Moto Z2 Play
Motorola Moto Z3
Motorola Moto Z4
Motorola One Action
Motorola One P30 Play
Motorola One Power P30 Note
Motorola One Vision
Motorola One Zoom
Motorola P30
Nokia 1 Plus
Nokia 2.1
Nokia 2.2
Nokia 3
Nokia 3.1
Nokia 3.1 Plus
Nokia 3.2
Nokia 4.2
Nokia 5
Nokia 5.1
Nokia 6
Nokia 6.1
Nokia 6.2
Nokia 7 plus
Nokia 7.1
Nokia 7.2
Nokia 8
Nokia 8 Sirocco
Nokia 9 PureView
Nokia X5 5.1 Plus
Nokia X6 6.1 Plus
Nokia X7 8.1
Nokia X71
Pocophone F1
Samsung Galaxy A10
Samsung Galaxy A10e
Samsung Galaxy A10s
Samsung Galaxy A2 Core
Samsung Galaxy A20
Samsung Galaxy A20e
Samsung Galaxy A20s
Samsung Galaxy A3 (2016)
Samsung Galaxy A3 (2017)
Samsung Galaxy A30
Samsung Galaxy A30s
Samsung Galaxy A40
Samsung Galaxy A5 (2016)
Samsung Galaxy A5 (2017)
Samsung Galaxy A50
Samsung Galaxy A50s
Samsung Galaxy A6 (2018)
Samsung Galaxy A6+ (2018)
Samsung Galaxy A60
Samsung Galaxy A6s
Samsung Galaxy A7
Samsung Galaxy A7 (2016)
Samsung Galaxy A7 (2017)
Samsung Galaxy A7 (2018)
Samsung Galaxy A7 Duos
Samsung Galaxy A70
Samsung Galaxy A8
Samsung Galaxy A8 (2016)
Samsung Galaxy A8 (2018)
Samsung Galaxy A8 Duos
Samsung Galaxy A8 Star (A9 Star)
Samsung Galaxy A8+ (2018)
Samsung Galaxy A80
Samsung Galaxy A8s
Samsung Galaxy A9 (2016)
Samsung Galaxy A9 (2018)
Samsung Galaxy A9 Pro (2016)
Samsung Galaxy A90
Samsung Galaxy C5
Samsung Galaxy C5 Pro
Samsung Galaxy C7
Samsung Galaxy C7 (2017)
Samsung Galaxy C7 Pro
Samsung Galaxy C9 Pro
Samsung Galaxy E5
Samsung Galaxy E7
Samsung Galaxy Express Prime
Samsung Galaxy Fold
Samsung Galaxy Folder
Samsung Galaxy Folder2
Samsung Galaxy Grand Max
Samsung Galaxy Grand Prime Plus
Samsung Galaxy J Max
Samsung Galaxy J1
Samsung Galaxy J1 (2016)
Samsung Galaxy J1 4G
Samsung Galaxy J1 Ace
Samsung Galaxy J1 mini prime
Samsung Galaxy J1 Nxt
Samsung Galaxy J2
Samsung Galaxy J2 (2016)
Samsung Galaxy J2 (2017)
Samsung Galaxy J2 Core
Samsung Galaxy J2 Prime
Samsung Galaxy J2 Pro (2016)
Samsung Galaxy J2 Pro (2018)
Samsung Galaxy J3 (2016)
Samsung Galaxy J3 (2017)
Samsung Galaxy J3 (2018)
Samsung Galaxy J3 Emerge
Samsung Galaxy J3 Pro
Samsung Galaxy J4
Samsung Galaxy J4 Core
Samsung Galaxy J4+
Samsung Galaxy J5
Samsung Galaxy J5 (2016)
Samsung Galaxy J5 (2017)
Samsung Galaxy J5 Prime
Samsung Galaxy J6
Samsung Galaxy J6+
Samsung Galaxy J7
Samsung Galaxy J7 (2016)
Samsung Galaxy J7 (2017)
Samsung Galaxy J7 (2018)
Samsung Galaxy J7 Duo
Samsung Galaxy J7 Max
Samsung Galaxy J7 Nxt
Samsung Galaxy J7 Prime
Samsung Galaxy J7 Prime 2
Samsung Galaxy J7 Pro
Samsung Galaxy J7 V
Samsung Galaxy J8
Samsung Galaxy M10
Samsung Galaxy M10s
Samsung Galaxy M20
Samsung Galaxy M30
Samsung Galaxy M30s
Samsung Galaxy M40
Samsung Galaxy Note 10
Samsung Galaxy Note 10+
Samsung Galaxy Note FE
Samsung Galaxy Note5
Samsung Galaxy Note5 (USA)
Samsung Galaxy Note5 Duos
Samsung Galaxy Note7
Samsung Galaxy Note7 (USA)
Samsung Galaxy Note8
Samsung Galaxy Note9
Samsung Galaxy On5
Samsung Galaxy On5 Pro
Samsung Galaxy On6
Samsung Galaxy On7
Samsung Galaxy On7 (2016)
Samsung Galaxy On7 Pro
Samsung Galaxy On8
Samsung Galaxy S Light Luxury
Samsung Galaxy S10
Samsung Galaxy S10+
Samsung Galaxy S10e
Samsung Galaxy S4 mini I9195I
Samsung Galaxy S5 Neo
Samsung Galaxy S6
Samsung Galaxy S6 (USA)
Samsung Galaxy S6 active
Samsung Galaxy S6 Duos
Samsung Galaxy S6 edge
Samsung Galaxy S6 edge+
Samsung Galaxy S6 edge+ Duos
Samsung Galaxy S7
Samsung Galaxy S7 (USA)
Samsung Galaxy S7 active
Samsung Galaxy S7 edge
Samsung Galaxy S7 edge (USA)
Samsung Galaxy S8
Samsung Galaxy S8 Active
Samsung Galaxy S8+
Samsung Galaxy S9
Samsung Galaxy S9+
Samsung Galaxy Tab A 8.0 2019
Samsung Galaxy Tab S6
Samsung Galaxy Xcover 3
Samsung Galaxy Xcover 3 G389F
Samsung Galaxy Xcover 4
Sony Xperia 1
Sony Xperia 10
Sony Xperia 10 Plus
Sony Xperia 5
Sony Xperia C4
Sony Xperia C4 Dual
Sony Xperia C5 Ultra
Sony Xperia C5 Ultra Dual
Sony Xperia E3
Sony Xperia E3 Dual
Sony Xperia E4
Sony Xperia E4 Dual
Sony Xperia E4g
Sony Xperia E4g Dual
Sony Xperia E5
Sony Xperia L1
Sony Xperia L2
Sony Xperia L3
Sony Xperia M2 Aqua
Sony Xperia M4 Aqua
Sony Xperia M4 Aqua Dual
Sony Xperia M5
Sony Xperia M5 Dual
Sony Xperia R1 (Plus)
Sony Xperia X
Sony Xperia X Compact
Sony Xperia X Performance
Sony Xperia XA
Sony Xperia XA Dual
Sony Xperia XA Ultra
Sony Xperia XA1
Sony Xperia XA1 Plus
Sony Xperia XA1 Ultra
Sony Xperia XA2
Sony Xperia XA2 Plus
Sony Xperia XA2 Ultra
Sony Xperia XZ
Sony Xperia XZ Premium
Sony Xperia XZ1
Sony Xperia XZ1 Compact
Sony Xperia XZ2
Sony Xperia XZ2 Compact
Sony Xperia XZ2 Premium
Sony Xperia XZ3
Sony Xperia XZs
Sony Xperia Z3
Sony Xperia Z3 Dual
Sony Xperia Z3 Tablet Compact
Sony Xperia Z3+
Sony Xperia Z3+ dual
Sony Xperia Z3v
Sony Xperia Z4 Tablet LTE
Sony Xperia Z4 Tablet WiFi
Sony Xperia Z4v
Sony Xperia Z5
Sony Xperia Z5 Compact
Sony Xperia Z5 Dual
Sony Xperia Z5 Premium
Sony Xperia Z5 Premium Dual
Xiaomi Black Shark
Xiaomi Black Shark 2 Pro
Xiaomi Black shark Helo
Xiaomi BlackShark 2
Xiaomi Mi 4s
Xiaomi Mi 5
Xiaomi Mi 5c
Xiaomi Mi 5s
Xiaomi Mi 5s Plus
Xiaomi Mi 6
Xiaomi Mi 6 Plus
Xiaomi Mi 8
Xiaomi Mi 8 Lite
Xiaomi Mi 8 Pro
Xiaomi Mi 9
Xiaomi Mi 9 Explorer
Xiaomi Mi 9 Lite
Xiaomi Mi 9 Pro
Xiaomi Mi 9 S
Xiaomi Mi 9T Pro
Xiaomi Mi A1 (Mi 5X)
Xiaomi Mi A2 (Mi 6X)
Xiaomi Mi A2 Lite (Redmi 6 Pro)
Xiaomi Mi A3
Xiaomi Mi CC9
Xiaomi Mi Max
Xiaomi Mi Max 2
Xiaomi Mi Max 3
Xiaomi Mi Mix
Xiaomi Mi Mix 2
Xiaomi Mi Mix 2S
Xiaomi Mi Mix 3
Xiaomi Mi Mix 3 5G
Xiaomi Mi Mix Alpha
Xiaomi Mi Note 2
Xiaomi Mi Note 3
Xiaomi Mi Pad 3
Xiaomi Mi Pad 4
Xiaomi Mi Pad 4 Plus
Xiaomi Mi Play
Xiaomi Mi Pro 5G
Xiaomi Redmi 3 Pro
Xiaomi Redmi 3s
Xiaomi Redmi 3s Prime
Xiaomi Redmi 3x
Xiaomi Redmi 4 (4X)
Xiaomi Redmi 4 (China)
Xiaomi Redmi 4 Prime
Xiaomi Redmi 4A
Xiaomi Redmi 5
Xiaomi Redmi 5 Plus (Redmi Note 5)
Xiaomi Redmi 5A
Xiaomi Redmi 6
Xiaomi Redmi 6A
Xiaomi Redmi 7
Xiaomi Redmi 7A
Xiaomi Redmi 8
Xiaomi Redmi 8A
Xiaomi Redmi Go
Xiaomi Redmi K20
Xiaomi Redmi K20 Pro
Xiaomi Redmi K20 Pro Premium
Xiaomi Redmi Note 4
Xiaomi Redmi Note 4 (MediaTek)
Xiaomi Redmi Note 4X
Xiaomi Redmi Note 5 AI
Xiaomi Redmi Note 5 Pro
Xiaomi Redmi Note 6 Pro
Xiaomi Redmi Note 7
Xiaomi Redmi Note 7 Pro
Xiaomi Redmi Note 7S
Xiaomi Redmi Note 8
Xiaomi Redmi Note 8 Pro
Xiaomi Redmi Pro
Xiaomi Redmi S2 (Redmi Y2)
Xiaomi Redmi Y1 (Note 5A)
Xiaomi Redmi Y1 Lite
Xiaomi Redmi Y3