Samsung Galaxy S7 Frp Bypass Hard Reset
How to Bypass Factory Reset Protection on Galaxy S7/ S7 Edge Android Smartphone
Factory Reset Protection is another level of Security added to latest Android Smartphones and same is the situation with Samsung's Galaxy S7 and S7 Edge. However this feature is added as security, but in some situations it might come as a nightmare. Suppose you have forgot the password of your Google Account or have purchased the used device or the Google Account used previously is blocked etc. In these situations the Factory Reset Protection might leave your device useless. But this tutorial might help you in Bypassing Factory Reset Protection on Galaxy S7/ S7 Edge.
1- Technocare Apk Download Link.👇👇 (i)- Link. How To Bypass Factory Reset Protection On Galaxy S7 And S7 edge. When you reset the phone and restart it, the phone will show the set-up screen. Click on next until you reach the Wi-Fi login screen. There, connect to a wireless network which you can easily turn off (WiFi hotspot or turn off the router). Connect to the WiFi network and click next. Oct 07, 2017 Download the software from below. On this page you can download the latest Samsung account remover tool (Samsung Unlocker FRP Account Remover) for free. Reset frp lock samsung. BYPASS GOOGLE Account Samsung. The Google account you have in the Android Samsung phone enables synchronising all the information stored with the account.
Factory Reset Protection comes in handy in the situation when your device is lost or stolen and the thief or the person Factory Reset your device from Recovery. In this situation the thief or the person won't be able to use the device until and unless they enter the previously used Google Account details and sign in with it. Below is the message which prevents them from accessing the device.
Samsung Galaxy S7 Frp Bypass
How to reset a Samsung SM-G930U Galaxy S7 to factory settings. The phone must be turned off. Press and hold both the volume up button, home button and power button. For some software version you must press and hold both the volume up button, volume down button and power button.
Hard Reset Samsung Galaxy Tab S7 FE, remove Google account Free tutorials to factory reset your phone and remove Google account with FRP bypass Tutorial to reset a Samsung Galaxy Tab S7 FE. We explain how to reset and restore factory settings to Samsung Galaxy Tab S7 FE, the phone will remain as the first day it is purchased, without any.
This device was reset. To continue, sign in with a Google Account that was previously synced on this device.
Disclaimer: This tutorial is intended to help the users who desperately need to Bypass FRP owing to unfortunate situation or circumstances. We strongly oppose device theft and such malicious activities.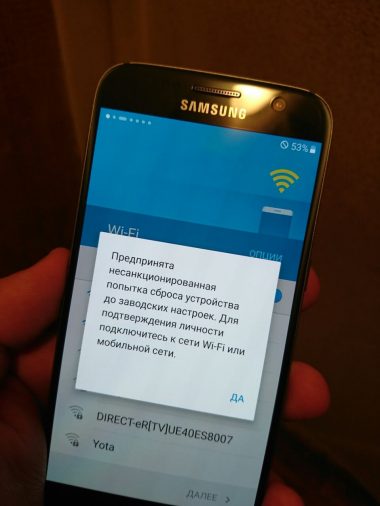 How to Bypass Factory Reset Protection on Galaxy S7/ S7 Edge:
Step 1: After Factory Resetting the device when you reboot, you will see the Setup Wizard. Proceed with the Setup Wizard, until you are asked to Connect to Wi-Fi Network.
Step 2: Create a Portable Wi-Fi hotpot on another Android device and make sure data is enabled. Connect to the Portable Wi-Fi Network on Galaxy S7/ S7 Edge.
Step 3: After connecting it to Wi-Fi hotspot, click Next. Now as soon as you see the Software Update, turn off the Portable Hotspot.
Step 4: As you turn off the Wi-Fi Hotspot you will see Couldn't Sign In message on Galaxy S7/ S7 Edge. Click Next, you will see the options for setting up data and time. At this point turn on the Wi-Fi Hotspot again and wait for it to connect on Galaxy S7/ S7 Edge.
Step 5: Follow the On-Screen instructions until you reach Google Services screen. Here scroll down and tap on blue text saying Google Terms of Services.
Step 6: A popup with Google Terms and Conditions should show up. Select some text and you should see options like Copy, Share etc. Tap on Share it should show a menu with share options available, just tap and hold the icon of Setup Wizard.
Step 7: This should open the Application Info screen for Setup Wizard. Tap on Data Usage > UPGRADE DATA SERVICE. It should open a menu asking you to Open With; choose Chrome browser. Once the browser opens in the address bar type -> http://bit.ly/29StUQm (it is case-sensitive).
Step 8: In the next screen hit on Download. This should download QuickShortcut Application to your device.
Step 9: Now go to Google.com and search or Samsung App Store and tap on the first link that appears in the search results. This should open Samsung App Store, scroll down until you see icon saying Samsung Galaxy Apps. It should open Galaxy Apps application on the phone.
Step 10: Search for ES File Explorer in Galaxy Apps and download it. Before downloading it should ask you to enter Samsung Account username and password. Sign In with your credentials or create a new account.
Step 11: Once the ES File Explorer is installed, open it and go to downloads folder. From there install QuickShortcut app which you have downloaded earlier. You may have to allow the application installation from Unknown Sources.
Step 12: Once the application is installed tap on Open and in the search box type Google Account Manager, Tap on it and you will find various options, tap on the first one which says Type Email and Password and hit Try button.
Step 13: This should open the activity to enter the password, tap on three dots in the top right corner and choose Browser Sign-In.
Step 14: Sign-In with your Google Account username and password. Once signed-in, QuickShortcut application should appear, just hit back until you reach Google Services Screen.
Step 15: From the Google Services screen, tap on Next until you see Account added message. Skip through all the screens and tap on Home button. If the home screen doesn't appear perform a Reboot.
Congratulations! Now you have successfully bypassed Factory Reset Protection on Galaxy S7/ S7 Edge and added new Google Account on it.
Was this tutorial helpful? If yes, then do share it on Facebook, Twitter and Google Plus etc.
Feel free to ask queries in the comment section below.
This page may contain affiliate links so we earn a commission. Please read our affiliate disclosure for more info.
Due to many forms of online threats nowadays, major tech companies come up with security protection for their customers and users. One of such ways that Google and its partners use to add security to Android devices is called Factory Reset Protection or FRP. In order to work, FRP must be activated on the device first. This is done by adding a Google account on the device. The registered Google credentials then become the way to unlock FRP. Once activated, the target device will then ask for these credentials after a factory reset. This makes it difficult for thieves to use the device since they won't be unable to unlock it. Unfortunately, this can also be a double-edged sword as the same security protection can make life difficult for users who forget their Google credentials after a factory reset, or for those who buy pre-owned devices with FRP enabled on them.
This article is intended for those looking for ways to bypass FRP ( Factory Reset Protection ). If you're one of them, go ahead and check the different methods to try below.
Method 1: How to bypass Google Account Verification FRP using Google credentials
This is the easiest way to take care of FRP lock or block and perform an FRP bypass on any Android device is by using the registered Google credentials. This is how FRP is supposed to be unlocked and it should be your primary option in this situation. Basically, what you want to do is to enter the correct Google username and password and that's it. Don't forget: FRP was designed to deter thieves from using a stolen device as well as to revalidate access to it if you are the legitimate user. If you can't provide the correct username and password, then you can consider resetting your password instead.
This workaround only works if your device is currently connected to the internet. This means that its mobile data or WiFi must be enabled ahead of time. This usually happens in cases wherein a user factory reset the device but did not turn off WiFi or mobile data before doing it. Resetting your Google account password must also be done using a different phone or device like a computer. Here's what you need to do exactly:
Reset your Google account password
If you forgot your password, go to

https://accounts.google.com/signin/recovery. You'll be asked to confirm if you have the right account by entering the email address or phone number associated with that account.

Choose a password that you haven't already used with this account.
Samsung Galaxy S7 Frp Bypass Hard Reset Tool
Recover username
Samsung Galaxy S7 Frp Bypass Hard Reset Software
If you forgot the username for your Google account, go to https://accounts.google.com/signin/usernamerecovery?hl=en. Just like in resetting your Google password, you'll need to enter the recovery email of your forgotten account. This can be another email or phone number.

In your recovery email (the other email Google will send recovery instructions to), find the email from Google and follow the steps.
Once you've done any of the two procedures above, try to do FRP unlock again using the new password.
How to check which Google account to reset
If you have several Google accounts and can't figure out which one was used on the device, go to https://www.google.com/android/devicemanager using another device. Then, log in with your Google username and password and check the list of devices associated to that account. do the same process for each and every Google account.
However, if you have Google account lock issues and is unable to perform google account bypass — try the next solution.
Method 2: How to bypass Google Account Verification FRP by flashing
Frp Bypass Samsung
If you are a legit buyer of a preowned device and there's no way to unlock FRP using the first method, then the best shot for you is to let someone flash the software. This is not an official suggestion from Samsung so you won't be able to get help from them with this one. Flashing means manually installing a new or stock version of the phone's firmware. This requires a special set of software tools and some Android knowledge to pull off. This was originally the way for manufacturers to wipe a device but it soon found its way to Android community. Understandably, bright Android 5 users and other versions then began using this procedure to modify stock firmware on devices as well as to force non-official firmware on smartphones. There's no universal way to flash Android devices and variations in some steps even exists for the same phone models. It is extremely risky even for seasoned Android users so we suggest that you let a technician or someone with experience to do it for you. Flashing your device can brick it and in some cases, even result to permanent damage. Do it at your own risk.
Method 3: Bypass Google Account Verification FRP by asking support from OEM
If you are the original owner of the device and nothing has worked so far, we highly recommend that you get help from the maker of the device. For instance, if you have a Samsung phone, you can visit your local Samsung Service Center so they can flash the software or do Samsung FRP bypass. When it comes to lock FRP, Samsung requires that you also show the original receipt or proof of purchase so be sure to have that with you when visiting them to perform FRP unlock . Remember, FRP is a security feature and they want to make sure that only the owner of the device asks them for help. They may also ask you for a valid ID to ensure that you are the person listed in the receipt. Once you identification has been verified, then they can go ahead and perform FRP bypass Samsung device.
Samsung Galaxy S7 Frp Bypass Hard Reset Download
Method 4: Follow unverified tricks
Frp Bypass Apk
Third party and unverified ways to unlock FRP exists all over the web but you should be careful with them. Samsung and other phone makers have already made great strides to fix loopholes to strengthen FRP so there's no guarantee that these methods still work at this time. Some of the ways to unlock FRP, with even some of them claiming they can be done remotely, are not free. If money is not an issue, then go ahead and use them. Since they are not officially supported by Google and phone makers, it's also possible that they can compromise the security of the device afterwards. We haven't not actually used any one of these unofficial ways to unlock FRP so we can't recommend any one of them. In general, we won't suggest that you even try but since it's your phone to begin with, it's for you to assess whether or not they're worth taking the risks.